Our Services
A COMPLETE LIST OF OUR SPECIALITIES

OUR MISSION
To design and construct the very best in commercial roofing and to build strong bussiness relationships through proven trust and reliability.

CUSTOMERS
We service corporate, government and inustrial customers and clients accross the east coast and beyond.

EXPERIENCED
With over 35 years of expertise and experience, we can ensure you that your roofing system will be durable, efficient, and stunning.

HAPPY TO WORK
We are passionate about the fine craft of roofing. Without a doubt, we are happy to work and impress our clients.
LOW SLOPE
Patriot Roofing offers various options for commercial low slope roofs. Contact us today to find out what sort of roofing solutions we offer.
Single-ply roofing membranes are great solutions for most commercial low-slope buildings. These roofing systems use sheets of compounded synthetic materials that are tested strenuously in their manufacturing factories to meet long-lasting durability. Single-ply roof systems are strong, flexible, and durable. Interested in learning more about single-ply roofing systems? Contact us today.
SBS BUILT-UP
Built-up roofing systems are constructed with layers of bitumen and reinforced fabrics that are applied via various temperatures. Afterward, the roofing is covered with gravel, weather resistance coating, or so on. Built-up roofing systems vary from other roofing systems due to the multiple applications of bitumen and fabrics. This roofing system is extremely durable.
Standing Seam Metal roofing is the most durable and weathertight roofing system around. This roofing system is highly durable, withstanding hail, snow, etc. Further, since this roofing system uses sliding metal and not a mixture, it is non-combustible, giving standing seam metal roofing the highest fire-retardant rating. Interested in standing seam metal roofing? Contact us today.

RETROFITTING
Is your facility leaking or has rainwater discharge issues? Patriot Roofing is able to help. We can restore and improve old roofing systems, including fixing rainwater discharge, leaks, expensive maintenance costs, etc. Contact us today to find out more information about retrofitting your facility's roofing system.
SIDING COMPOSITE PANELS & CUSTOM TRIM WORK
Patriot Roofing can provide all kinds of sliding composite panels roofing systems and custom trim to ensure that your facility is both protected and appealing. All of our roofing systems are efficient when it comes to rainwater discharge and leak prevention. Contact us today to find out more information about sliding composite panels and custom trim roof work.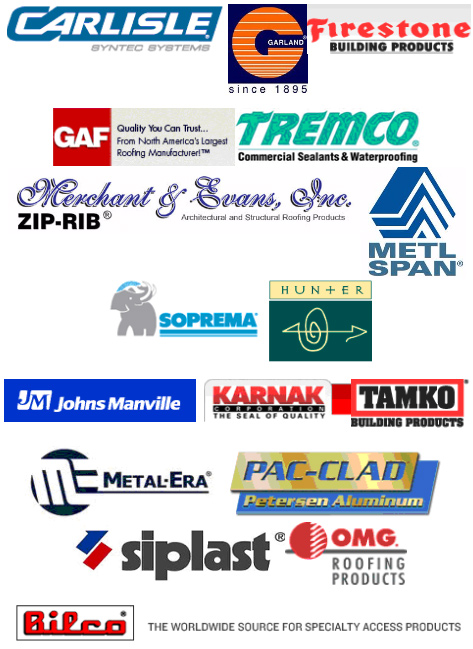 HERE ARE SOME GREAT EXAMPLES OF SYSTEMS WE USE
Besides the systems displayed already on this page, we also use:
AEP-SPAN, ATAS, ATLAS, BABCOCK – DAVIS, BERRIDGE, CERTAINTEED, CHENEY, DECKFAST, DOW, DUROLAST, ECO STAR, ENGLERT, FABRAL, FIBERTITE, FLEX MEMBRANE, GARLOCK, GEN FLEX, GRACE, HENRY, HILTI, HUNTER PANELS, HYDROTECH, JAY R SMITH, MARATHON, MERCHANT & EVANS, MILLENIUM, MULE HIDE, POLY GLASS, PORTLAS PLUS, PROFAST, RAC, SMITH, STEVENS, THERMO – VU, TOPCOAT, TRUFAST, TRUMBULL, UNA – CLAD, WAUSAW, and W.P. HICKMAN.

PATRIOT ROOFING
Patriot Roofing, Inc. has been handling large and small commercial roofing projects for over 35 years. Serving our clients with world-class design and construction is what has earned us a reputation for quality, honesty, and efficiency.
CORPORATE OFFICE:
2083 Jacksonville-Jobstown Rd.
Jobstown, NJ 08041
(609) 723-6688
tmanna@patriotroof.com

OFFICE HOURS:
Mon-Fri.: 7:00am - 5:00pm
Sat.-Sun.: Closed